History
Seck Kia Eenh Cancer Fund Melaka, was launched near to fifteen years ago, on Wesak Day in the year 2000 in conjunction with the 80th Anniversary of the Seck Kia Eenh Temple. Inspired by Mr. Joy Chan Swee Huat who personally experienced the anguish and pain of  having to undergo cancer treatment  himself, the fund was established to help cancer  patients. Besides having to cope with mental and physical encounters, a cancer patient  requires  financial resources in order to seek good and proper medical treatments. Due to financial constraints, very often, many patients do not go and seek immediate medical  advice and treatment which can be very expensive. Having this in mind, the Seck Kia Eenh Cancer Fund Melaka was formed with the primary objective of helping cancer patients  alleviate their financial burden by helping them to pay part of their hospital expenses.  By doing so, it helps to promote generosity, loving kindness and compassion which the  Great Teacher, the Buddha expounded more than two thousand six hundred years ago.
The fund began its noble cause with the seed money totaling RM40,000.00 from the late Mr. Joy Chan and family, the late Mr. Chan Kim Lay and family, the late Mr. Harry Chan and family.
To date, many patients and their families have been helped especially on their medical expenses incurred during their treatment.
 Eligibility
 Seck Kia Eenh Cancer Fund Melaka was formed solely to help cancer patients only. Only cancer patients who are really in need will be given consideration. Financial aid to help to cover the cost for hospital treatments and drugs will be given. Irrespective of race, creed, sex and age, Seck Kia Eenh Cancer Fund Melaka gives out aid to any cancer patient who comes and seeks assistance. Most of the time, patients request for financial assistance.
Application
Cancer patients must submit the official application form obtainable from the Seck Kia  Eenh general office. All application forms must be duly filled and endorsed by the doctor  administering the treatment. A copy of the latest medical report from the hospital or  medical centre, duly certified by a Physician must be attached together with the  application form.   Completed forms must be submitted to the Seck Kia Eenh office.
Interview
Seck Kia Eenh Cancer Fund Melaka operates from funds donated by the public.  It is the responsibility of the committee in charge that applications are bona fide. Any application form received will be forwarded to the committee who will then arrange for an interview session. The interview panel comprises the committee members of Seck Kia Eenh who will visit the patients at their homes or the medical centres.
Amount 
It must be made known that Seck Kia Eenh Cancer Fund Melaka only helps out and cannot bear the total cost of a patient's medical expenses incurred. The amount approved depends on the recommendations of the interview panel after taking into consideration the patient's financial status and needs.
Selection and Approval
 A sub-committee headed by Bro. Edmund Ng as the Chairman of the sub committee is responsible for handling any matter pertaining to the Cancer Fund. Analysis, decision and approval are handled by the Sub-committee.
SECK KIA EENH CANCER FUND MELAKA FUND CONTRIBUTORS
Seck Kia Eenh Cancer Fund Melaka is most fortunate to have kind and generous people who constantly support and donate towards the fund.
A  Individuals
i)   Individuals who donate regularly.
ii)    Families who donate in memory of their loved ones.
iii) Individual feats such as Dr. Lennard Lee who swam across the  English Channel.
B  Organizations
i) Charity Organizations and Guilds
ii)  Specific Fund Raising Events by:
SOME OF THE SPECIAL EVENTS HELD TO RAISE FUNDS FOR SECK KIA EENH CANCER FUND MELAKA
 1. LENNARD LEE'S FEAT ACROSS THE ENGLISH CHANNEL
Lennard Lee, 20, a medical student at Cambridge University became the second Malaysianto achieve the feat of successfully swimming non-stop across the 33.6 km -wide English Channel. He  managed to complete the feat in 9 hours and 45 minutes.  Lennard's feat was inspired by Datuk Abdul Malik Mydin who had successfully completed the  swim in 17 hours and 35 minutes the year before.  Lennard's effort was not only to achieve his personal goal. He had a big heart as his attempt was also meant  to help raise funds for Christie Hospital, a cancer hospital in Manchester and to build a new swimming pool for his university. He managed to raise £1,000 on the day he completed his swim.
Lennard was also very happy that he could help his uncle, Dr. Lee Yew Meng, a heart         surgeon at a private hospital  in Melaka to raise funds for the Seck Kia Eenh Cancer Fund Melaka. The fund's committee chairman, Mr. Joy Chan Swee Huat said that a total of RM11,716.50 had been received from donors at that time. A final check with Mr. Joy Chan confirmed that the Seck Kia Eenh Cancer Fund  Melaka finally received a total donation of more than RM100,000 as a result of Lennard's effort. The committee will be always indebted to Lennard  and Dr. Lee Yew Meng for their kind thought and contribution towards the fund. May they be blessed with good health, long lives and happiness always! Sadhu!
SKE Cancer Fund sub-committee members 2016/18.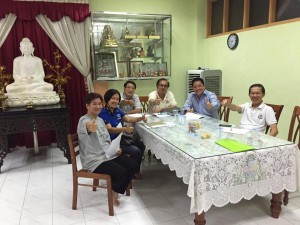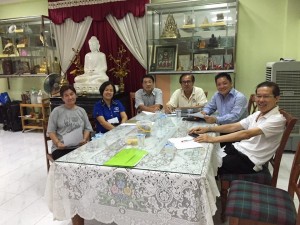 Gratitude and utmost thanks  to donors  of SKE Cancer Fund.